All-Mardi Partiers

All-Mardi Partiers is not available for purchase. To inquire about your own custom guitar, please contact Billy to request information: visit Contact page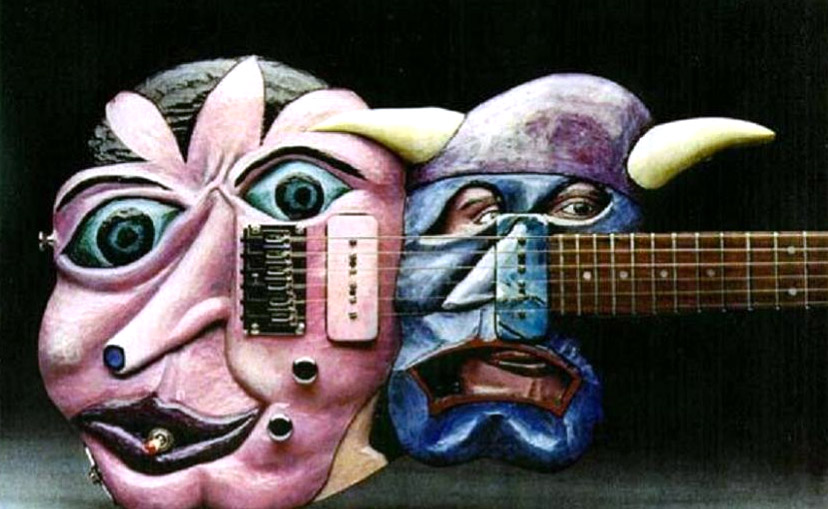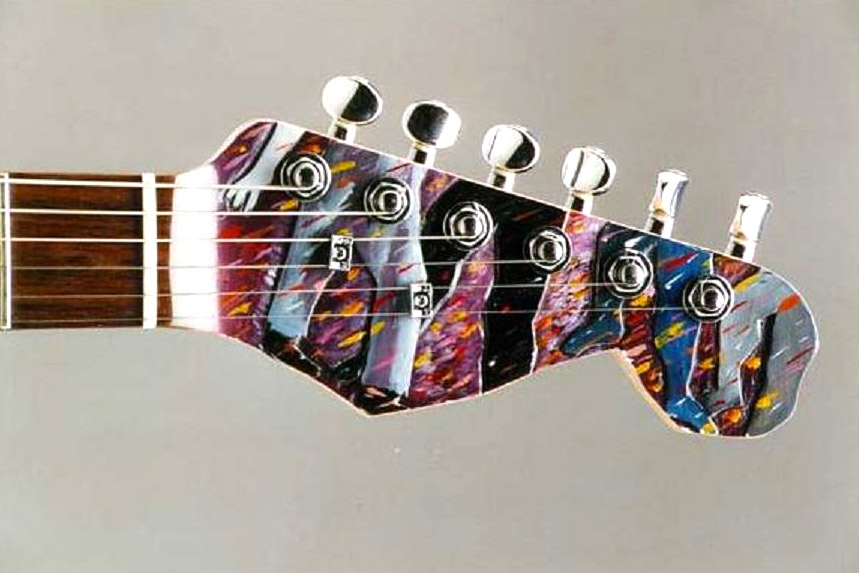 Model 010-92: Hand-carved and hand-painted alder body. Two masked Second-liners , one with the face behind the mask! Parading legs headstock.
I can't say enough about this guitar. Plays great, sounds great, scares the hell out of people. (Headstock carving completed in '95)

Bolt on flamed-maple 25 1/2 inch scale neck; rosewood fingerboard. Two Gibson P-90 pickups; master-volume and master-tone controls with a three-way selector. Chrome finish hardware and Gotoh tuners. Builder's Notes at bottom

While I was still in the N'Arlins groove, this one came out as a big step up for me. The carving's pretty challenging with the face under the mask and the nice 3-d on the clown face's nose. The headstock is a cool compliment that I think keeps the whole look integrated. I really started diggin the P-90 sound after I made this one, and I'm still a devote. I don't think I painted the pickup covers until a few years after I finished this one.
Note on Peter Max
Look him up on the web to see he's done a lot of guitar decorating. I think his first fame was his Yellow Submarine style illustration. Some time back in the 80s or so, I saw pictures of guitars—standard factory guitars—that he'd painted over and he'd painted over everything: hardware, pickups, fingerboards, bodies, and I think even the strings. It was crazy but it stuck in my head. So far, I'd say the Green Fish
/dog-fish-green-fish.html
is the most involved I've gotten into painting in the hardware, etc. It's been a slow and cautious circling the idea as I'm trying to preserve the feeling that these things are guitars to be played so I'm trying to preserve that level of integrity and not have people afraid to touch them. When I finally got down to carving up the headstocks, I was seriously nervous that that might somehow undermine the confidence in the thing as a real instrument. (I should have realized from the beginning that anything that didn't mimic the Gibson or Fender shapes would be doing that automatically) Anyway, a tip of the hat to Peter Max.
---