Carp 'n Cod
Model 025-09.
Weight: 7.5 lbs.
Scale Length: 25 in.

Hardware: Hipshot "Baby Grand" tailpiece, Lindy Fralin P-90 pickups, chrome Gotoh 510 tuners; master volume, master tone, and blend controls.

Materials: Redwood body topped with ash; maple and mahogany neck with rosewood fingerboard

Email Billy to claim this guitar or request additional information.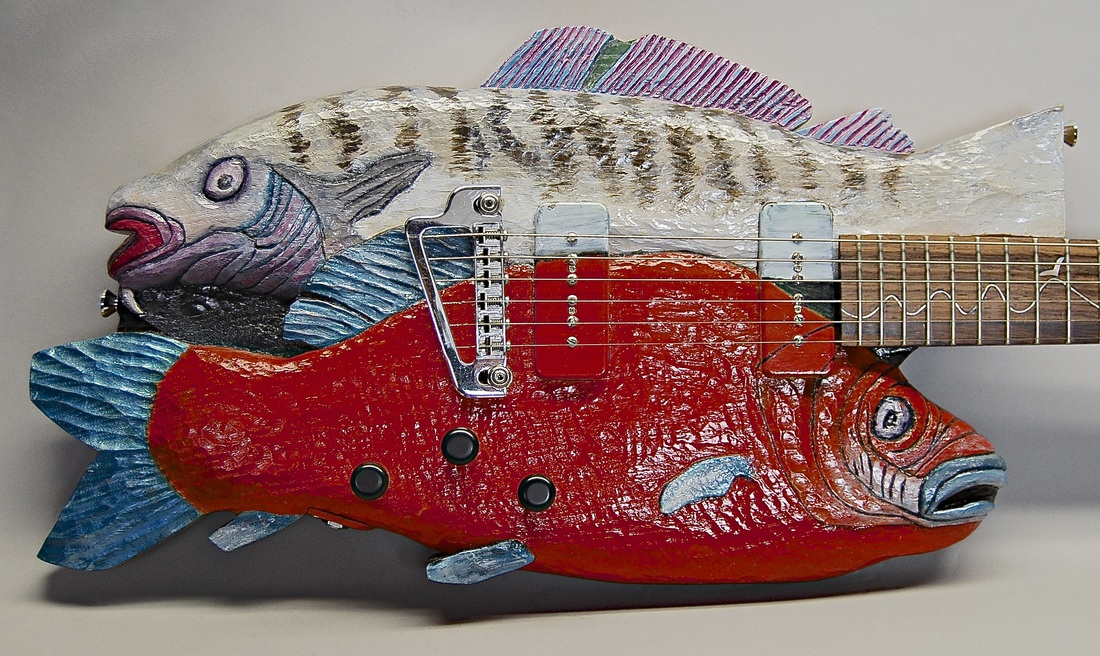 I like the resonance you get with a top-mounted bridge/tailpiece as opposed to a string-through-the-body. This harp-style design is fine.



The maple and mahogany neck has a 25 inch scale rosewood fingerboard inlaid with mother of peal seabirds and sterling silver wire waves. (The fish on the headstock is called a Smello!)

I cut the truss rod cover out of ebony and the jack plate out of maple instead of using stock plastic parts. I think it gives a nicer visual feel and integrates better into the concept.
This is one of two tributes to my First Fish guitar, using the remaining red wood I had from the original made back in '87. The tops are carved from ash rather than oak. These 2 are made in the same spirit as the first-fish, but using more refined tools and the skills picked up over 20 years of carving and guitar building. I've replaced the 3-way toggle switch with a blend control which gives a richer variety of tones.
Read the Poem:
/guitars--poems.html
---