Mighty Tears of Joy

Weight: 7.7 lbs.
Scale length: 25 in.
Hardware: 2 P-90 pickups; Wilkinson bridge/tailpiece; Gotoh tuning machines; master tone, volume, and blend controls.
1 piece white ash body; maple neck with rosewood fingerboard; mother of pearl, processed abalone, and re-con stone fret position inlays.
Email Billy for more information or purchase: mailto:rhinehart@fishgutar.com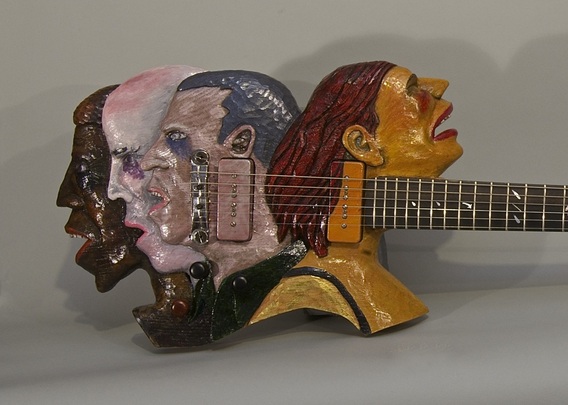 This is sort of a Lambert, Hendricks, and Ross ensemble but with an additional blue-haired silver skinned fellow thrown in as second tenor. Check out the great tears pouring out of their eyes.
Lambert, Hendricks, and Ross were a be-bop inspired jazz vocal trio from the early 1960s.


The inlays, are mother of pearl teardrops on the upper neck, then pearl, abalone, and re-c0n stone silhouettes of the singers depicted on the body.