Mona
Mona is not available for purchase. To inquire about your own custom guitar, please contact Billy to request information: visit Contact page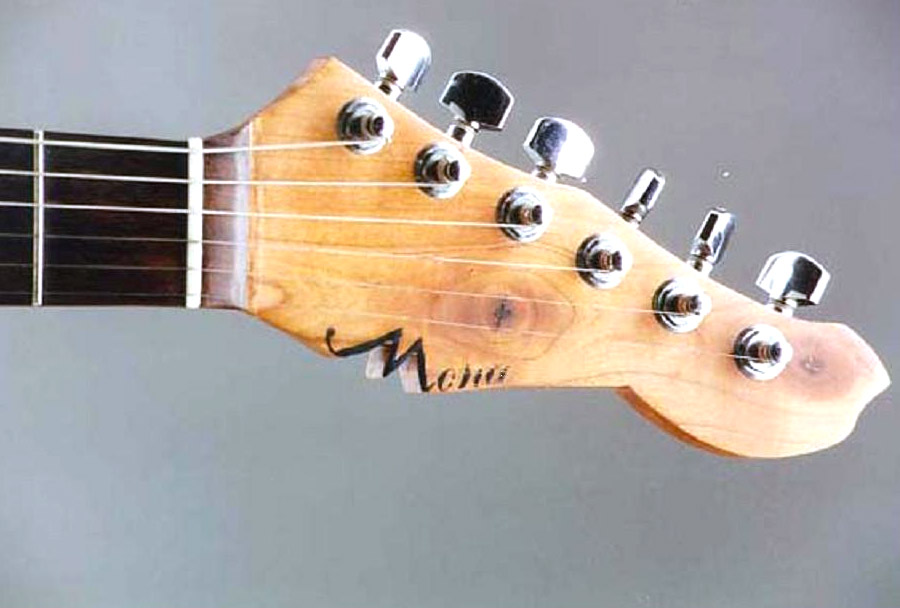 Information and Builder's Notes

(Model 004-91) Hand-carved and hand-painted two-piece bird's-eye maple neck-integral with body; cherry peghead; rosewood fingerboard. 25 1/2 inch scale with standard frets.
More info and Builder's Notes at bottom

This is a very comfortable player, really, I'm not kidding. I showed Mona to Duke Robillard and he said, "Nice neck!" A great player. A great looker. A very special guitar.

Two Schaller "Golden 50" humbucking pickups. Master tone and master volume controls with three-way selector. Schaller chrome tuners and chrome hardware. Fully shielded.

(headstock re-worked, re-finned 93, sold 93?)

I bought a pretty nice birds-eye maple plank which I cut into two halves, both sort of "b" shaped, which I glued back-to-back so the stems become the neck and the round parts become the body block. Thus the "neck-integral". I attached the headstock in the old-fashioned classical guitar style that comes in under the fingerboard. I used a piece of cherry that Dan Earlywine said he would have thrown in the woodstove. It was a lesson. Before I sold this one, I cleaned up the headstock and refinished it; replaced the control cover plate that I cut out of a Kinks multi-colored vinyl LP with plain black plastic; the LP was too thin; and I trimmed down the yellow-painted wood bordering the pickups. This gives it an overall cleaner and lighter look. But I don't have a picture of it.

So this is the first neck I built. It came out nicely. I'd gotten a basic carving set of chisels by this time, as seen in the texture of the hair, which I couldn't have done without a gouge.

---