Mr. Green (the Bar Fly)

Mr. Green (the Bar Fly) is not available for purchase. To inquire about your own custom guitar, please contact Billy to request information: visit Contact page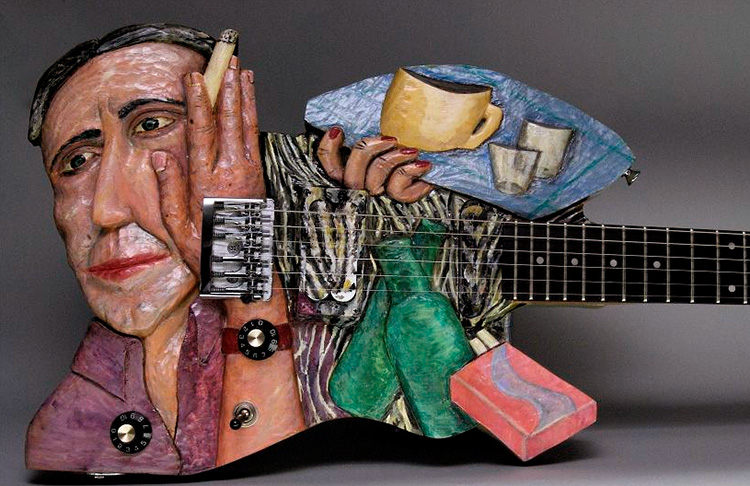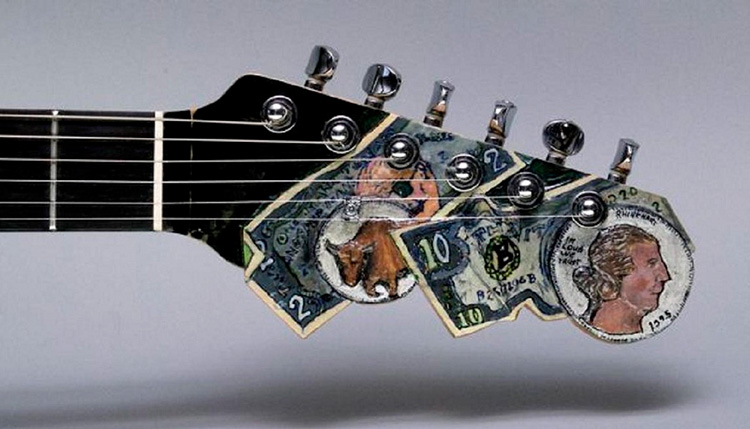 Information and Builder's Notes

Model 013-94: Hand-carved and hand-painted ash top on a basswood body. Small-Change headstock.

Sometimes I don't know what possess me. This piece is clearly over the top. The first neck had a nice little reversed George Washington quarter. Much too modest. I used a Stew-Mac unprofiled headstock neck on the final piece. In loud we trust! Completed in '95.

Bolt-on 25 1/2 inch maple neck; ebony fingerboard. Chrome Schaller roller bridge and Gotoh tuners. Full size humbucker in bridge position, stacked single-coil in the neck position. Fully shielded.

I was looking for a similar tonal vibe that I'd gotten with oak on top of redwood in the First Fish. Which has a great acoustic resonance. This has an ash top, similar hardness and density to oak, and a basswood back, similar in hardness to redwood. This is one of 2 or 3 others that I painted the back on because the wood was so plain. I painted the top with oil paints. When I did the bottles, I put down the green color then washed over it with a copal that melted the paint and gave it a great glassy look.

I'm very fond of the headstock carving. The neck was a Stew-Mac "paddle-head" unprofiled headstock, so I had a lot of room to work. I had fun designing the paper money and the coins. In loud we trust!

With the original pickups, I thought this guitar sounded too quacky. The buyer swapped them out a couple of times, but found the right combination.

---