Salt River Baritone

Model 15-04-01
Weight: 8 lbs.
Scale Length: 27 3/4 in.
Hardware: Telecaster style bridge/tailpiece; Grover tuning machines; Fender Custom Shop vintage tele pickups; Master volume and tone controls, and 3-way pickup switch.
Materials: Poplar wood body, maple neck with rosewood fingerboard.
Email Billy to claim this guitar or request additional information.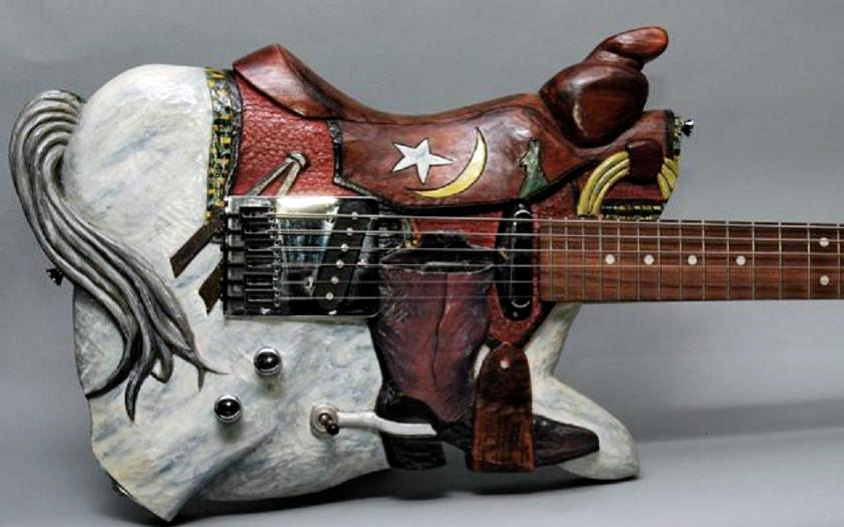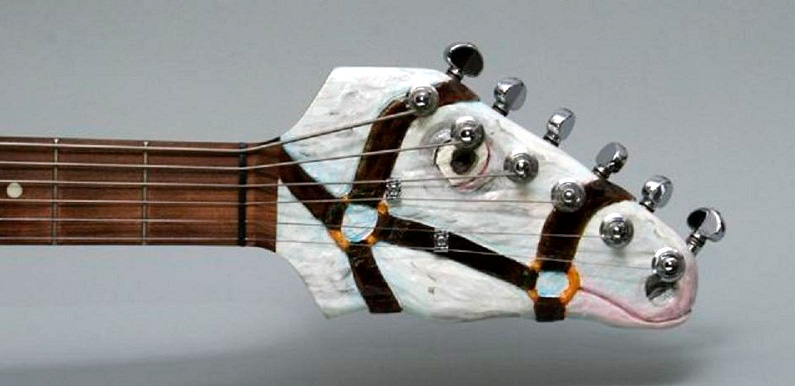 This has a re-carved factory-made neck, solid feel and massive tone; it rings like a piano. Long Face headstock.

Woodworkers like poplar; it shapes and finishes nicely and has a sweet purplish-green look under clearcoat. It's a little sticky to carve though and takes some getting used to, but the results are worth it.

I burned out on the horse & saddle thing after the third one, so this piece sat in my shop roughed out for several years before I got hooked on the baritone idea. The poplar holds up well with the bigger neck and stouter strings. The pickups are Fender Custom Shop vintage tele repros and they really deliver the twang and kick.

The "tooled leather" on the saddle pads was done by tapping the end of a bolt that I'd flattened out a little to punch the pattern into the wood. The neck is a Stew-Mac job with a big unprofiled paddle headstock. The back is finished with a rather lurid green transparent stain. Who wouldn't love that?

---