Sweet Spot, the Sugar Dog
Sweet Spot, the Sugar Dog is not available for purchase. To inquire about your own custom guitar, please contact Billy to request information: visit Contact page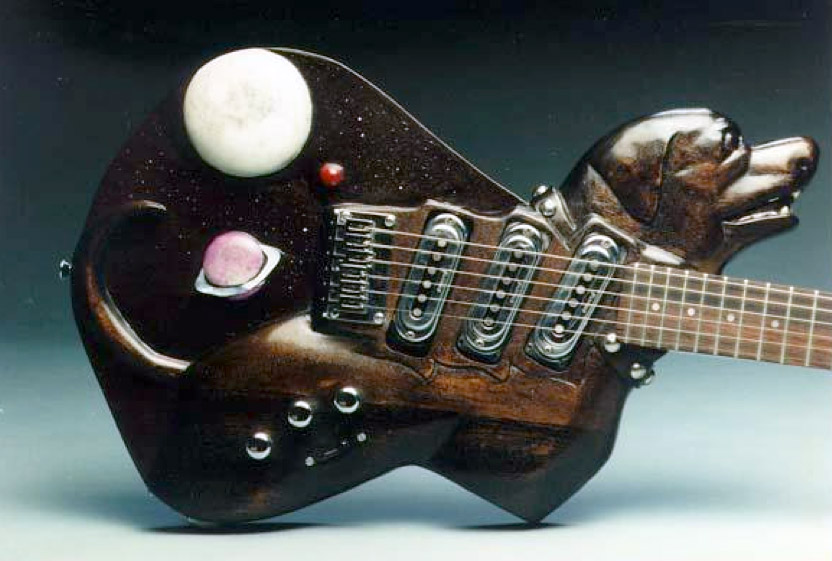 Sweet Spot, the Sugar Dog, early painting job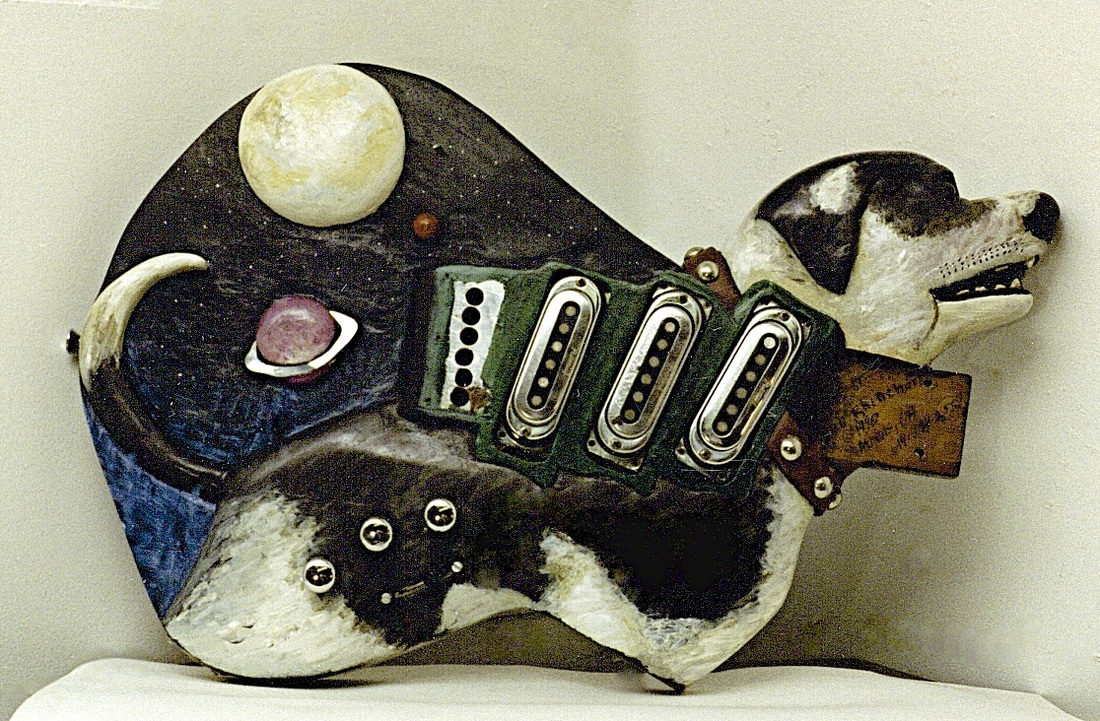 Information and Builder's Notes

(Model 003-90) Hand-carved and hand-painted three-piece mahogany body; bolt-on bird's-eye maple neck; rosewood finger board; standard frets; 25 1/2 in. scale.

This was the third guitar I made. I was out of cash, so I tore apart my old Framus after discovering that it was an OK sounding guitar once all that gothic german mad scientist wiring was torn out. My first fish got the Framus neck, the dog guitar got the fish guitar neck and the Framus pickups. Michael Gibson of the Dashboard Saviours plays this guitar. You can hear it on their third CD, "Love, sorrow, hatred, madness" on Medium Cool Records.

Three 60s vintage Framus single coil pickups; 5-way switch with push-pull phase-reversal for the middle pickup. Chrome hardware and Gotoh tuners. Fully shielded.

Sweet Spot, the Sugar Dog (003-90) (repainted, sold ca.93) (one bad snapshot taken with neck removed) (Neck from first fish; pickups scavenged from Framus) (Sold to Michael Gibson around '93)

Sweet Spot was also carved from 3 pieces of 2-inch mahogany using the same set of Odd Lots tools. I used a few dental tools to do the teeth. I used my then-new Master Mechanic plunge router to hog out around the tail and the moon and do the other routs. I'm still pretty iffy with a power tool in my hands. There some nasty gouges inside the pickup routs on this one. Every a thrifty one, I parted-out my old Framus to do this guitar. I swapped the neck with the neck from the Fish so this one has a Tele style neck and 3 pickups from the Framus. The Framus originally had about 8 switches and 4 control pots and about a mile of wiring inside with a 9 volt battery to switch in some rather unpleasant overdriven tones. When I stripped all that down to a simple five-way switch and 3 control pots, the tone actually became real—sort of P-90, but tighter. Just before I sold this one, I re-painted it with some white spots to help define some of the features better. [see this snapshot for the final painted look. I never got a studio shot taken] This is one of 3 that still have a plain profile headstock.
---